Are you a Holiday cheermister? Are you always looking for a little extra room to squeeze in even more holiday cheer? We have you covered! We have found five extraordinary ways to transform your garage into a Holiday garage that's festive and useful this holiday season.
1. A Gift wrapping hideaway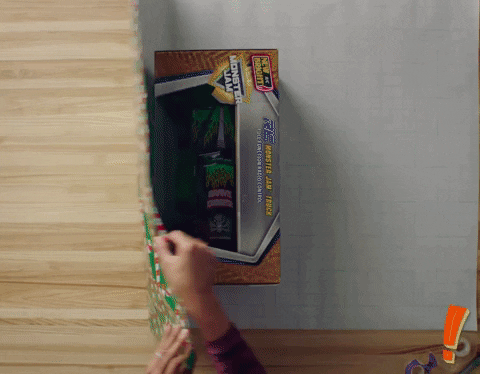 Transform your garage into a holiday wrapping station. For privacy, you can hang curtains to block any peeking eyes from seeing through windows or an open garage door. We don't want to give anything away. Include a couple of tables, chairs, pairs of scissors, some tape, and lots and lots of wrapping supplies, and you have a cozy space where you can spread out and make each gift look spectacular. You can use paper towel rolls and hangers to hold ribbon within reach and to minimize tangling. Holiday decorating is all about creativity and this will help you be your creative best. Don't forget to get some great wrapping inspiration from Pinterest. The best part is… it's temporary! Once the holidays are over or all of the gifts are wrapped, you can give the garage back to your cars.
2. Holiday Decorating for your Dinner party
Is your dining room too small for all of the friends and family you want to invite to your holiday dinner? Extend that space by decorating and hosting the dinner in your garage. To start, you can hang plain or holiday sheets/curtains around the walls, or dining area to block out the hand tools and garden implements you are storing. Place your tables front and center and then busy yourself with decorating. You can adorn the garage with garland, lights, decorations, and your fine china. If your garage is cold, purchase or borrow a portable fireplace. Hang some stockings with care and add much-needed warmth for your guests to enjoy. It will surely add to the festive vibe.
3. Beach party paradise for winter relief
Are you looking for a different type of holiday party? Maybe you're looking for a way to take your mind off the winter blues. Why not Imagine your garage as beach party central? Everyone can relive stories about summer vacations while sipping cocktails. All you need are a table or two, some Tiki decorations, an indoor barbecue grill, a few beach chairs, some lei's, and a ton of beverages. Invite your friends to bring something to throw on the grill and a side dish, then spend the time laughing and enjoying each others company all while visions of summer dance in your head.
4. Christmas caroling shack
Why not make your neighbors come to your home to hear caroling. Instead of spending one night walking around to sing carols, why not spread the cheer throughout the season. Impress your friends and practice your musical talents in the garage. Making a caroling shack will make neighbors stop in their tracks or walk to listen to your practice sessions, that's rock star status right there. You will be more than ready when the time comes to belt out your favorite hymns at church or on your caroling day. To make the space fun and inviting, add holiday decorations and lights. Set up a table with a coffee pot, hot water for tea and maybe some of your favorite holiday treats. You can take it even one step further and put together a small hot chocolate bar adding mint sticks and marshmallows to help keep your neighbors warm while they listen.
5. Meditation zone for stress reduction
We put this one at the end of the list because it can be used during the holidays, or after the holidays, or during and after the holidays, your choice. Even if you are a cheer mister and the Holidays are your jam, they can still be stressful. You're probably trying to figure out how to afford an escape, after spending too much during the holidays. We have a money saver for you. You might want to plan a temporary escape, in your garage. Hear us out, we promise it's good. Make some temporary space in your garage and use this area for a meditation zone. This is a space that you can return two for as long as it takes to get your zen back. Your zen garage should have plenty of comforting colors and fabrics. Natural light is a must. A glass garage door is a perfect entrance to a zen area because it offers privacy without taking away the bright sunlight you need to soak up.
This year, use your garage to make your holidays special and a little less stressful. When you need room to breathe or entertain, the garage can free up enough space for a small crowd to gather or for a party of one to become one with themselves. Your garage is more than a parking space, and you can use it to show off your creative side. All Four Seasons is all about great garages that make your home what it is, a place for you! Tap into our creativity if you are thinking about getting your garage door upgraded or needing to get more years of faithful service from it. Call us at 615-981-8454 for our Atlanta customers and 615-274-8419 if you're in Tennessee. You can also visit our website All4Seasonsgarages.com
Merry Christmas!
From the All Four Seasons Family to your Family.
If you found this article helpful, please help spread the word.
Share this article to Social media. Thank you!
[sharethis-inline-buttons]
Listen to our latest Homeshow episode. Don't miss out!
12/01/2018 Broadcast
Barbara Spivia of Lakewood 400 Antiques & Gift Market